Nespresso, the European leader in the ultra-competitive portioned coffee market, was constantly inundated by a growing list of sponsored links leaching off its brand name in search results pages. Selecting these sponsored links would divert users away from the intended listing, being Nespresso.
These sponsored links often appear in the right column of the search results page. Furthermore, in many countries they even precede the organic rankings. These listings may have emanated from competitors, fake dealers or even authorized retailers to create harmful brand confusion with the goal of redirecting many potential consumers.
How can a company protect itself from this kind of commercial hijacking and keep control over its brand name on the Internet?
These actions and goals are targeted towards any usurper(s), of the Nespresso brand name, covering all of search engines. This will:
Protect the intellectual property rights violated by unauthorized sponsored links

Optimize Nespresso campaigns so that they generate more clicks

Remove the usurpers who mislead (redirect) potential consumers
In general, the principal search engines sell brand keywords without worrying about the legitimacy of the purchasing company or the probability of violation of intellectual property rights.
Considered a type of "brand hijacking", this practice of purchasing brand names as keywords has been generally accepted as one of the many inevitable Internet pitfalls.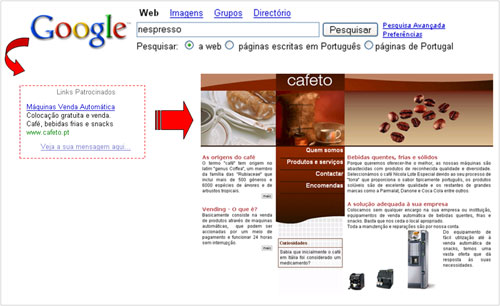 In September 2005, a procedure was established to forbid the purchase of the keyword "nespresso" by companies other than Nespresso itself, invoking intellectual property clauses and recent jurisprudence. This in turn allowed them to regain online control of their brand name and to put an end to unfair competition.
Intellectual property rules differ from country to country, leading Nespresso to launch many legal proceedings. These focused proceedings included 11 countries where Nespresso brand keyword campaigns started.
Once the illegitimate competition was eliminated, Nespresso's keyword purchasing campaigns quickly started generating more clicks. Moreover, they were optimized in order for users specific search intentions to land them directly on the most appropriate page on www.nespresso.com.
Results:
The major success of this approach is proven by the noticeable increase in profitability of Nespresso's Adwords campaigns:
The cost invested has been dramatically reduced (by the suppression of other auction bidders) allowing an average savings of more than 60% on the CPC price

The number of visitors generated by keyword campaigns, which led them to the Nespresso site has increased dramatically since Internet users are no longer being redirected towards competing sites

The Nespresso brand is now in full control of its Internet territory
Today, by typing the word "nespresso" on Google, for example, you will notice that there are no longer any sponsored links, apart from Nespresso and its authorized retailers.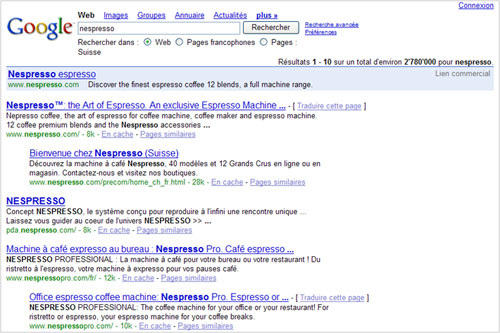 The key learnings:
Nespresso's great success marks a new era in online brand protection. But that does not mean that the battle is over. Intense vigilance is required to control the intellectual property rulings that have been implemented and enforced, particularly in foreign markets
In order to ensure conformity, constant monitoring of search engines in key markets is necessary. This implies use of powerful technologies that detect deviation as soon as it appears so that corrective action can be taken as quickly as possible
A company's brand name is often its most important asset, which is why Internet traffic hijacking can be so detrimental to a company's business. Brand and territory protection should be carried out systematically prior to launching expensive keyword or other search engine marketing campaigns